This article has been archived and is no longer being updated. It may not work with the most recent OS versions.
RWDevCon 2017 Inspiration Talk: Finding Freedom Through Freelancing by Lyndsey Scott
Have you ever dreamed of pursuing all of your interests? Victoria's Secret and Calvin Klein model, Lyndsey Scott, shares how she's made room in her life for acting, modeling, and iOS development contracts. By Lyndsey Scott.
Leave a rating/review
Sign up/Sign in
With a free Kodeco account you can download source code, track your progress, bookmark, personalise your learner profile and more!
Create account
Already a member of Kodeco? Sign in
Save for later
Sign up/Sign in
With a free Kodeco account you can download source code, track your progress, bookmark, personalise your learner profile and more!
Create account
Already a member of Kodeco? Sign in
RWDevCon 2017 Inspiration Talk: Finding Freedom Through Freelancing by Lyndsey Scott
20 mins
Note from Ray:
At our recent
RWDevCon tutorial conference
, in addition to hands-on tutorials, we also had a number of "inspiration talks" – non-technical talks with the goal of giving you a new idea or some battle-won advice, and leaving you excited and energized.
We recorded these talks so that you can enjoy them even if you didn't get to attend the conference. Here's one of the inspiration talks from RWDevCon 2017: "Finding Freedom Through Freelancing" by Lyndsey Scott. I hope you enjoy it!
Transcript
Today I'm going to talk to you all about how I found my own personal freedom through freelancing.
It's taken ten years, but I've finally managed to fully pursue all the things I love. Right now I act, I model, I do iOS development. I'll take this time to tell you all that I've been able to freelance my way into balancing all three.
The Background Story
A little bit about myself: I graduated from Amherst college in 2006 with a dual major in Theater and Computer Science.
Why did I choose theater and computer science? Well, even before I started college I knew that I wanted to be a theater major. I loved acting more than anything. As a second major, I explored economics, I explored physics. Then when that physics class I wanted to take was full, I decided to give computer science a try. I had no idea what it was, but I figured I'd give it a go.
I should have known what it was, though, because when I was about 12 years old I read through this huge book of documentation that came along with my TI-89 graphing calculator, and I figured out how to build games without realizing that there was a whole academic field devoted to this hobby of mine, of coding.
When I took my first computer science course in college, I had even more fun coding than I did when I was a kid. Here I was able to learn the theory behind everything, and I was able to receive grades that validated my interest.
Programming came naturally to me. I went on to learn about algorithms, artificial intelligence, robotics, lower level programming languages, compilers and more. Eventually I graduated with that dual degree in theater and computer science.
This is 12 year old me, the programmer.

Even my newfound love for programming, though, couldn't distract me from my acting career. I moved back in with my parents in New Jersey and hopped into the freelance life right away as an actress, going back and forth from New Jersey to New York.
I made progress by booking some roles on my own, and I managed to earn my coveted Screen Actors Guild Union card by fall. When a modeling agency found my pictures online and told me that they'd have me work with both their fashion and acting divisions, I jumped at the opportunity to have my career progress.
Lights, Costumes, Fashion!
As it turns out, I actually enjoyed modeling a lot. I soon discovered that modeling was a bit like acting, putting on different costumes and transforming into different characters.
Unfortunately, there were sides of the industry that I wasn't as fond of. First off, by signing with an agency I lost a lot of control over my career: I was no longer legally able to find jobs on my own. Yes, I had access to better opportunities now, and the opportunities paid more money, but I often felt impatient. I felt that my progress in my career was slow. And though I wasn't naturally outgoing, I had to learn to be.
My agency had me change my entire wardrobe, change my hair, had me lying about my age and told me exactly what to say during various meetings. In all aspects of my professional life, I was now in costume playing a character and reciting a script.
I caught on well, though, and after about a year I started making enough money to move out of my parents home and into an apartment of my own in New York. Shortly after that I had my big break: I was the first African American to score an exclusive contract with Calvin Klein.
After that, other contracts followed: DKNY, Vogue, W Magazine, Prada, Gucci, Fendi, and the Victoria's Secret show and catalog.
I was often on planes several times a week. I lived in London, in Paris, and traveled all around Europe working with my various agencies all over the world.
Success and Anxiety
Eventually I came back to New York, where even during the peak of my success I spent most of my time at home waiting for the phone to ring. I kept my schedules clear so that my agencies could call me at any moment and have me go into an office for a last minute appointment or job.
I'd settled into making a very good living for myself, being able to afford a two story penthouse apartment in New York while only working approximately three days a month at a minimum of $6,000 a day. I'd attained relative success in this industry, but I was bored and riddled with anxiety, always waiting for the next phone call and knowing that my career could fade away at any moment.
That was around the time I got my first iPhone, around 2010, 2011.
iPhones and Inspiration
Inspired by what I saw as the beauty of the interface and the elegance of the iPhone experience, I began to use my free time and my programming background to learn how to create iOS apps for myself.
After a modeling industry shakeup, my agents all left my New York agency so I had to switch to another. The bookings dried up immediately.
They suggested I go back to Europe to get some new images for my portfolio, so I did. I took their advice in an attempt to hold on to a career that I felt had little security. I lived for nearly a year in Paris and then Berlin. I managed to book several nice editorial shoots, but magazines pay little to no money.
I had enough time, and fortunately enough savings, to let myself relax into the different cultures I was around, and I would spend every available moment I had coding.
I did the raywenderlich.com tutorials. I followed tutorial series on YouTube. I'd read Apple's documentation, and I especially learned by doing. I built out a few apps on my own.
After nearly a year of making no money, I came back to New York to find out that my agency had actually dropped me while I was away. They didn't tell me about this at all until I got back.
The Need for More Control
Although I managed to find a new agency and the bookings did start coming back in, I realized that I needed to build a stronger foundation for myself by devoting more time working towards a career that I could control.
I started coding nonstop. I subleased my apartment. I moved back in with my parents and committed myself to publishing an app on my own.
My First App
For my first app, I decided to go with what I knew. I came up with an idea for a customizable modeling portfolio app. That fall I spent several months fueled by growing financial desperation, very little sleep, and the belief in the product I was determined to release.
By the start of that winter, the app was approved and on the app store.
I carefully designed marketing materials. I sent packages to every agency in New York. I posted advertisements on various fashion websites. I contacted the fashion press.
Despite all my efforts, there was little to no response. I'd been a very successful model a few years earlier; I'd enter a room and fashion folks would greet me, flatter me, treat me with respect. As my popularity waned and opportunities dried up, however, I was no longer as treated as important or even worthy of respect.
I was told by my agencies that my modeling career's demise was my own fault, that I was too boring, that I was too short, that ethnic models weren't in. My calls were often ignored, and my emails often received no response.
I had started coding again to gain some power for myself after spending years serving in an industry that often felt dismissive, so perhaps I shouldn't have been surprised that building an app to cater to those same industry folks was met with no response.
The World Takes Notice
By this point, I was very used to being rejected and ignored, so I was genuinely shocked when, by the end of that year, the wider media actually took notice of my accomplishments. Headline after headline came out: Victoria's Secret Model Is a Programmer. I was in Forbes. I did an interview for NPR, the BBC, Good Morning America, CNN, Bloomberg TV and many, many more news outlets.
When I'm not performing I'm a pretty private person, so I decided to focus a portion of the media attention away from myself and towards the lack of diversity in tech, that same lack of diversity which made my story newsworthy in the first place, since I don't look like the typical programmer in the media's eyes.
I spent that year swamped with interview requests and speech requests and press opportunities. I turned down lucrative modeling jobs, seeing this PR as a more promising route to financial stability.
During all of that success, I made virtually no money. Press doesn't pay, and I didn't yet know how to make money from the publicity.
The Struggle for Respect
I was a very solid iOS developer at this point—I'd been coding in Objective C for several years and had released five or so apps on the app store—but very few people in the tech industry took me seriously.
For example, during one conversation I had with a successful tech founder who had no iOS development background at all, he attempted to give me a lesson on iOS background modes. He tried to explain iOS background execution and he told me that there were three new background modes. I said, "Well actually there are 9 background modes," and I listed them one by one.
He was in shock. "Oh, you're a real programmer." He knew I'd been a computer science major. He knew I'd released several iOS apps, but that wasn't enough. He still didn't believe I was a real programmer.
You may think to yourself that sort of reaction is reasonable. It makes sense to assume that I haven't had enough time to commit to my programming as a full-time engineer might have, but even now I'll walk into a room of male programmers who know nothing about me. I'll try to join their conversation and they'll often say, "Oh you wouldn't be interested in this. We're just talking about programming."
With or without my modeling background, I'm still often met with skepticism, probably because the typical programmer looks nothing like me.
Stack Overflow recently did a survey that found:
88.6% of its users are male or identify as male, while only 7.6% identify as female.
74.4% identify as white or European, while only 2.5% identify as black or of African decent.
Of all programmers, only about 23% are mobile developers.
Of that 23%, 57.6% of those polled were iOS developers.
So as a black female iOS developer, I'm a rarity.
Learning By Teaching: Becoming an Expert
I started becoming active on Stack Overflow shortly after Swift was released in 2014. I learned the new language, not by asking but by answering questions on Stack Overflow. I'd been fluent in Objective C for years, and by helping others navigate their issues with the new language I managed to become fluent in Swift as well.
Still intent on proving myself worthy of programming work, I spent a full month tethered to my computer, to the Stack Overflow iOS feed, answering question after question after question.
Much like the broader tech industry can be, Stack Overflow isn't always the most welcoming place for women, and I was in fact faced with some sexist comments, but as my Stack Overflow reputation grew in points I became more determined; I pressed on until I became that month's #1 iOS question answerer.
I took that screenshot and sent it over to raywenderlich.com with a description of my experience, and after taking a test was invited to join the iOS tutorial team. I desperately needed money at that time, so I saw it as both an opportunity to make some income and as a résumé builder which would hopefully lead to other opportunities.
Since then I've written tutorials on optical character recognition, Google Cardboard, routing and core location, I did a Fastlane update recently, and I'm about to start working on a Core Text tutorial in Swift soon (Update: you can find the Core Text tutorial here!).
Around the time I joined Ray's team, I came up with an idea for a TV show, a tech TV show that seemed to perfectly combine my tech and entertainment experience in a way that could be monetized. Through my networking over the past year, I managed to enlist a team of producers beyond my wildest dreams: Alexis Ohanian, who's a co-founder of Reddit, and the Emmy Award-winning producers of Shark Tank.
In order to keep an eye on the project as it was produced out of Sony studios, I took a gamble, found a place to stay on Craigslist, and moved out to LA. There, I was finally back on track with pursuing all my dreams. I started going back to acting classes. I found new acting representation, and by the time we met with networks and they passed on the show, I was still happy to be in a place where professionally I felt I had always belonged.
Becoming A Freelancer
As a member of Ray's tutorial team, I'd signed up to receive contracting opportunities submitted to the site, and I took on one in particular.
It was a remote contract that paid relatively little money, but the designs the client had created were beautiful. I did everything in my power to make my client happy, and I made sure the app looked and functioned well enough to serve as a great portfolio piece for me.
Freelancing Tips
As a freelancer, the most valuable endeavors don't always have immediate financial rewards. Reputation can be your most valuable asset.
Since that initial contract, I've found 40-hour-per-week remote freelance jobs pretty consistently over the past two years or so. Each client has recommended me to the next client, and my rate has increased gradually. I now typically work for a minimum of $125 per hour, depending on the length and complexity of the contract. I'm often the sole developer on a project, which I particularly enjoy because those apps can serve as an especially great showcase of my work.
At the start, I always choose money over equity, because although being able to receive your typical rate AND equity is ideal, most app companies fail. It's hard to succeed in the app business. If a company can't afford to pay you, chances are they can't afford to market their product effectively either.
After building an initial app for a fee, I may go back and accept equity in exchange for future updates if I feel confident that the product will make money. If the app does in fact succeed, then that equity could provide an important passive income stream for me that can sustain me through the dryer periods.
When it comes to my remote contracts, I stay honest. I offer discounts. I post to GitHub often so that there's a record of my work to account for all the hours billed. My clients like that I make suggestions and that I take initiative and that I attack each project from a design, from a user experience, and from an engineering perspective.
The best part is that even with 40 hours per week of freelance programming, my schedule is flexible. I can work night, weekends, anytime and still take acting classes, go to auditions, and pursue any acting or modeling gig that comes around.
I now have the freedom to pursue all of my interests, along with the freedom to reject modeling, acting, or programming work that doesn't align with my goals. If I make money doing one job, I can use the money to help advance another one of my careers. Each career has helped fuel the others.
For those of you looking to pursue freelance iOS development here are 5 things I hope you've taken from my story.
If opportunities aren't coming along, build up your resume in other ways.
Stay flexible but set firm boundaries. You can keep an open mind while still working towards your goals.
Don't get too comfortable in any one contract. Keep networking.
Keep learning. Read up on design, user experience, app store optimization, etc. If you're a front-end developer, learn back-end development. It only makes you more financially valuable.
Make your clients happy, and remember that even though it's not technically your app, it can serve as a great portfolio piece, and having a stellar product to show off is crucial to your resume.
I'm sure all of you have multiple passions; if not, I suggest you go out and get some. :] Technology is useless if there's nothing to apply it to, and being able to offer your expertise in areas other than iOS development can be extremely valuable to your client.
I hope you gained a bit of insight today into how freelancing can help you gain control over your schedule and allow you the freedom and time to pursue all of your dreams. Thanks.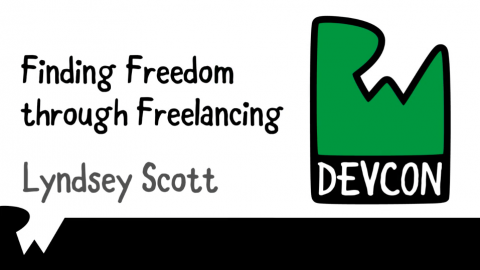 Note from Ray:
If you enjoyed this talk, you should join us at the next
RWDevCon
! We've sold out in previous years, so don't miss your chance.
All videos. All books.
One low price.
A Kodeco subscription is the best way to learn and master mobile development — plans start at just $19.99/month! Learn iOS, Swift, Android, Kotlin, Flutter and Dart development and unlock our massive catalog of 50+ books and 4,000+ videos.
Learn more