Advanced Spring Fling Sale Ends This Friday, May 10!
Spring ahead in your career with up to 50% off new books and video courses — for advanced iOS and Android developers like you! By Tiffani Randolph.
Save for later
Sign up/Sign in
With a free Kodeco account you can download source code, track your progress, bookmark, personalise your learner profile and more!
Create account
Already a member of Kodeco? Sign in
Advanced Spring Fling Sale Ends This Friday, May 10!
10 mins
We're in our second week of the Spring Fling Sale, designed especially for advanced iOS & Android developers!
Until May 10, you can get a 1-year raywenderlich.com subscription for just $149/year — a savings of more than $90 over our regular monthly rate!
We're also running a massive sale on our advanced iOS and Android books, with great deals on our advanced content, and book bundles up to 50% off.
Read on to get all the details!
Sale: $149 for a 1-Year Video Subscription
As a professional developer, you owe it to yourself to keep the world's best resources for learning mobile development right at your fingertips.
Your raywenderlich.com subscription includes access to the world's largest and most up-to-date learning resources for professional mobile developers, with over 2,800 videos covering iOS, Swift, Android, Kotlin and more!
Here's just a sample of some of our advanced courses that have come out recently:
iOS & Swift:
…and more!
What Others Are Saying
Many professional developers from around the world have used their raywenderlich.com subscription over the years to help advance their own careers, as well. Here's what some of them say:
I would never have been able to build my meditation timer this quickly without your great tutorials. It's the best tutorial experience I've ever had as a programmer. – C. Hellman
"Congratulations to your great success! raywenderlich.com is now the world's best website for mobile app developers." – J. Li
"raywenderlich.com truly has the best tutorials, I can always count on them to give me a good foundation for any topic!" – @girlcanpearl
"One of the best investments in my career has been a raywenderlich.com membership. I've learned a lot of great things that have helped me grow as a developer. – N. Kohrn
As an advanced developer, your time is massively limited. So we design our courses to teach you what you need to know as quickly and concisely as possible.
If our video courses saved you just a few hours a month from crawling through StackOverflow and getting frustrated with incomplete documentation, you'd see how quickly it would pay for itself!
Get Access to All Video Courses
Your subscription gives you immediate, complete access to our massive library of over 2,800 iOS, Swift, Server-Side Swift, Android and Kotlin courses — and you'll also get access to all courses we release in the future.
You'll also get exclusive access to our collection of screencasts: short, focused videos that help intermediate and advanced developers like you get right into the "hands-on details" of a particular technique or tool without all of the fluff.
Our usual monthly subscription rate would cost you over $239 per year. But, for the next two weeks only, you can get your first year's subscription for just $149 — a savings of more than $90 over our regular monthly rate!
Note: Already have a monthly subscription? You're eligible to upgrade to this offer as well! Simply upgrade to the yearly sale subscription price; you'll automatically be credited for any remaining days on your current subscription, and you'll get to enjoy the discounted subscription rate for your full first year.
After the first year, your subscription will renew at the usual rate of $179.88 per year, which still saves you $60 per year over the month-to-month rate. Nice!
Sale: New Advanced Android and iOS Bundles!
And even though video courses are great, most advanced developers know that learning from multiple sources is the best way to set themselves up for success.
You can grab our newest and best Android and iOS books (at a sweet discount, too!) to build your own professional library and give yourself an edge over the rest:
Advanced Android Bundle
Advanced Android Bundle: Three new books for advanced Android developers: Advanced Android App Architecture, Kotlin Coroutines, and Reactive Programming with Kotlin — just $99!
Advanced iOS Mini Bundle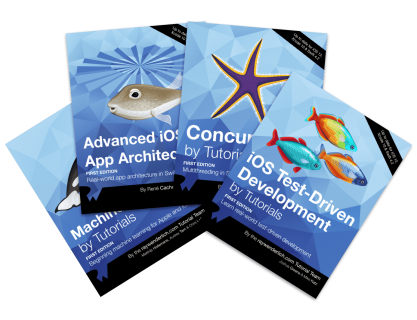 Advanced iOS Mini Bundle: Four new books for advanced iOS developers: Advanced iOS App Architecture, Machine Learning by Tutorials, Concurrency by Tutorials, and iOS Test Driven Development by Tutorials — just $129!
But if you're really serious and want even more, you can grab the limited-time bundle of all of our advanced iOS development books:
Advanced iOS Mega Bundle
Advanced iOS Mega Bundle: Treat yourself to the ultimate learning collection of eight of our latest and greatest books for advanced iOS developers. Contains all four books in the iOS Mini Bundle, as well as our classics on RxSwift, Advanced Debugging, Push Notifications and Realm. On sale now for $199 – that's over 50% off!
Don't need a bundle right now, or want to build up your own custom collection? No worries — all of the new books are on sale as well, for $10 off the cover price. This is the right time to invest in yourself — you're worth it!
The book bundles and sale prices will only be available until May 10th, so don't wait! We'd hate for you to miss out.
Any Questions?
There's a whole FAQ page devoted to the Advanced Spring Fling Sale here, to answer questions you might have:
Where to Go From Here?
Building apps can be a challenging task, and staying on top of the shifting sands of platforms, languages, frameworks and libraries is never easy.
That's why having some of the world's best iOS and Android resources at your fingertips is absolutely the best investment you could ever make in yourself or your team.
We want to help you succeed — and that's why we keep turning out the highest-quality courses and books on the stuff you need to know to be your best. Don't miss this chance to level up your skills with the year's best deals on all of our advanced content.
Legacy (Spring19 Discount)
Learn Android, Kotlin, Swift & iOS development with the largest catalog of video courses and screencasts on the Internet. Get full access now!
View now