This article has been archived and is no longer being updated. It may not work with the most recent OS versions.
Readers' App Reviews – February 2013
Feb 20 2013, Other, Other, Other
Alright readers, you've been hard at work developing more awesome apps! This month we've got a cool workout app that will help you keep that 2013 resolution, some addictive games including one you can play without looking, a powerful photo meta data organizer, and much more! By Ryan Poolos.
Leave a rating/review
Sign up/Sign in
With a free Kodeco account you can download source code, track your progress, bookmark, personalise your learner profile and more!
Create account
Already a member of Kodeco? Sign in
Save for later
Sign up/Sign in
With a free Kodeco account you can download source code, track your progress, bookmark, personalise your learner profile and more!
Create account
Already a member of Kodeco? Sign in
Alright readers, you've been hard at work developing more awesome apps! And its time to showcase a few again. :]
This month we've got:
A cool workout app that will help you keep that 2013 resolution ;]
Some addictive games including one you can play without looking!
A powerful photo meta data organizer
And much more!
Lets take a look at them all!
Clever Clues

Put your trivia knowledge to the test in this clue based puzzler.
Clever Clues gives your simple 2 or 3 word definitions and a scrambled letter grid. You've got to find words between 3 and 6 letters to solve each clue.
Its very addicting but can get rather challenging quick. Thankfully you can tap a button for a hint, which reveals the first letter of the word – sometimes a necessity for me! :]
How I met your Panda

How I met your Panda is a very cute game with a very fat Panda!
Help this poor Panda find his true love through hours of levels that test your steady hand and quick reflexes. The game features familiar tilt controls while the excellent level design definitely keeps your mind working.
GameCenter and universal support help make this game a must download.
Mad Racer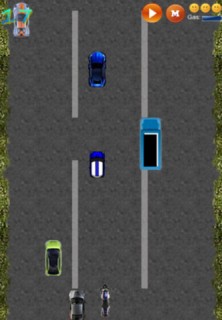 You've got to be mad to race in this traffic! ;]
Mad Racer is a simple addicting game all about endurance dodging. Simple tilt controls allow you to steer your car around other cars and obstacles and into powerups and point boosts.
Get high enough scores to unlock new cars and get your name on the world wide highscore charts.
Memory And Alphabet HD

Memory and Alphabet is a great app for kids. It packs over 170 words with sounds.
Four game modes will help teach your kids all 170 words. Games include bubble spelling, picture matching, memory matching, and learning gallery mode.
Every game is very interactive and well paced for children. The app includes audio cues and directions for kids who have trouble reading.
Photofacts – Picture Intelligence

Photofacts is a powerful digital photography tool providing extensive metadata for all your photos.
Photofacts provides geo-locations, color profiles, the most advanced EXIF data you can handle, lens details, and more. It will even aggregate not only local photos from your camera roll but also grabs pictures form Flickr, Facebook, and Instagram. It can even keep track of your friends photo feeds.
It has a beautiful interface for iPhone and takes full advantage of your iPad's extra screen realestate. This is a must have app if you're using your iOS device for professional photography.
FruitSort Free

When I get bored in the grocery store, I just sort some fruit!
FruitSort is a fun game where you catch falling fruit by swiping open the properly labeled drawer. Watch out for fruit flies buzzing around trying to get in the way! Smash them! That's what I did. :P
This fast paced game gets addicting and when things really get moving try not to mix up your strawberries and cherries. ;]
Pico Time

Help Pico survive the Bermuda Triangle!
Navigate Pico through fifty random mini games to help him avenge his father and save his girlfriend. From defending castles to throwing snowballs at penguins to fighting the Bermuda Triangle himself. This game will never leave you bored.
Endless arcade mode will keep you busy for hours after you're done saving Pico in story mode. GameCenter will keep track of your highscores.
App Stalker

App Stalker will help you keep track of apps on your wish list.
Type in the name of an app you've got your eye on and it will keep track of price changes and udpates.
Its a simple app that does its job well when you need it without spamming your email or notifications when you don't.
Finding Power

This guy needs your help to find more power for his dying battery!
This excellent puzzle platformer challenges your mind and reflexes with 32 unique levels. Simple left, right, and jump controls let you guide your way through each level. Slide boxes, cut ropes, drag other obstacles to get all three power stars in each level. But be quick, the battery is running out!
Ragdoll Cam

Ragdoll Cam is the most unique camera app I've seen!
Ragdoll Cam lets you draw different shapes around pictures you take to slice them up into pieces. Pieces can be connected to each other, draged around, resized, or just shake your phone and let physics decide!
This app provided endless hours of amusement for me while I tried find new things to interact with. Rearrange your face, jumble up a room, or just do something crazy.
Space Hops

Help Zimbo get to the edge of space!
Space Hops is an endless scrolling platformer where each hop gets you closer to space. Collect coins and powerups to multiply your score. Watch out for flaming asteroids falling from space!
GameCenter integration lets you compare your highscores with friends and others from around the world.
Wex

Wex makes it easy to share your experience working with companies around the world.
Wex lets your rate each company you work for or with and share that with the community. Search for popular companies to see other's experiences.
Follow companies and get push notifications when new experiences are posted.
Viking Voyage

Guide the Vikings to their proper homes in this classic path drawing game.
The game has three different kinds of ports within five different harbors. Rack up some highscores to unlock them all. GameCenter highscores and achievements will keep you busy after you unlock all 5 harbors.
The game features some cool graphics and nice background music to boot.
ECHO

Trust your ears not your eyes!
Echo is an awesome game taking advantage of directional, stereo sound! As you play the game slowly dims the screen and you're forced to rely more and more on directional audio to avoid obstacles coming your direction. The game is best played with a good pair of headphones but its well worth digging them out!
The game has a really great sound track both in the game and just chilling on menus. GameCenter leaderboards round out this very unique game.
RipDeck

It's time to get in shape maggot! :]
RipDeck is a great app to help you get in shape. It lets you build custom workouts using decks of cards. Each suit can be a different work out, like push-ups for hearts or sit-ups for clubs. Then each card is a different number. Draw a card and get to work!
Its simple, effective, and very easy with this app. The app will also let you store multiple custom workout setups and keep track of your workout history as you get going.
Honorable Mentions
Here are the apps that didn't get reviewed. Remember it wasn't a popularity contest or even a rating contest. Forum members got priority among other factors. Your apps were great and I'm sorry we didn't have time to review them all!
1st Grade Math: Splash Math Worksheets Game for 13 chapters [HD Full]
Where To Go From Here?
We're off to a great start this year! Keep up the awesome work everyone. And if you're reading this thinking, "I wish I could build a great app/game". You're in luck! Check out our free tutorials! What are you waiting for, I want to see your app or game next month!
If you've already used our tutorials in an awesome app or game, I want to know! Submit here!