Readers' App Reviews – March 2017
Check out some apps released by fellow raywenderlich.com readers this March, including an app that sends messages in a real bottle! By Ryan Poolos.
Leave a rating/review
Sign up/Sign in
With a free Kodeco account you can download source code, track your progress, bookmark, personalise your learner profile and more!
Create account
Already a member of Kodeco? Sign in
Save for later
Sign up/Sign in
With a free Kodeco account you can download source code, track your progress, bookmark, personalise your learner profile and more!
Create account
Already a member of Kodeco? Sign in
Readers' App Reviews – March 2017
10 mins
I don't know about you but I'm eagerly counting the days to WWDC. Fingers crossed we get some amazing new APIs this year & maybe they'll even blow our minds with a new Mac Pro.
While we wait, I've got some new apps from your fellow readers I'd love to share with you.
This month I want to share:
An app that sends messages in a real bottle
A game that will have you laughing over the seven seas
An app that makes picking a cat as easy as online dating
And of course, much more!
Keep reading to see the latest apps released by raywenderlich.com readers like you.
Tidings

Have you ever wanted to send a message the old fashioned way but were worried it might not make it?
I'm talking of course about a message in a bottle. Its normally such a hassle. You have to find a bottle and drink whatever is in it. Write out your message on a tiny scrap of paper and squeeze it into the bottle. Then you've got to find the good sand and the perfect shell. The whole thing can be exhausting.
Good news, Tidings is here to help! Tidings lets you prepare your perfect message right on your iPhone. Then they'll pack it up just right. They use hand crafted bottles, perfect white sand, and a handpicked seashell to set it off. Then they carefully package it and ship it to your intended recipient. Best of all, this is all a mere thumb print away thanks to seamless Apple Pay support.
Nelly Cootalot: The Fowl Fleet

We all play games to be entertained, but its not often we play one as entertaining as Nelly Cootalot: The Fowl Fleet.
This hilarious adventure game follows the pirate heroine through a perilous and laugh inducing adventure. She takes on the evil Baron Widebeard. But its the cast and events along the way that will make your day. Throughout your mission you'll complete puzzles and fall in love the characters.
Nelly Cootalot: The Fowl Fleet features full voiceovers in both English and German. A great script thats sure to charm and delight you "whether you are 9, 19 or 90. (But ONLY those ages.)," as said by the authors themselves. Beautiful art and animations that look great on an iPhone, iPad, or even Mac. There are more than 45 unique characters in 35 locations.
If you need a fun game to pick up, this one is well worth a try.
ElCrab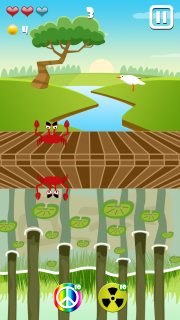 Imagine you're a crab. Now imagine you and a crab buddy found a treasure map. Whats the first logical thing you'd do? That's right, dig so deep you pop out of the earth on the other side!
Thats exactly what happened to ElCrab. Now one of you is on one side of the planet while the other is on the other side. Naturally the rest of the animal kingdom is very upset with you both for leaving a hole in the planet and they're trying to hunt you down. Your job is to help both crabs evade them as long as you can.
As you evade your captors, collect coins and extra lives. You can use the coins to buy powerups to give you a little extra help or gems to give you a second chance at getting away. See how your stack up on the GameCenter leaderboards against friends and the world.
Feline Finder

Feline Finder is an app with a purpose. Feline Finder helps you find cats at nearby shelters to adopt. Their goal is to get more cats adopted while making sure those new adoptions are built one more than just a cute face.
Feline Finder lets you answer a few questions about the cat you might like. It ask things such as how much energy do you want your cat to have, how playful of a cat do you want, how independent of a cat you'd like, and if the cat will be inside or outside most of the time. It uses these answers to suggest breeds that might better fit the type of cat you're looking for.
You can also skip the questions and go straight to breed library. There is information on almost every breed including histories, temperaments, pop culture references, and more. Each breed also has statistics on various traits like grooming needs, attitude toward children or other pets, energy level, and much more.
After you've picked out the perfect breed either from the library or the suggestion quiz, you can find cats of that breed currently up for adoption nearby. If you're looking for a new cat, download this app and consider adopting your new friend.
Retromines

Retromines is exactly what you think it is: Minesweeper right on your iPhone!
We've all spent far too long playing Minesweeper when we should have been working on something else. I personally spent too long playing Retromines when I should have been writing these reviews. ;]
Retromines is a beautiful tribute to the classic Minesweeper. It recreates the entire pixelated experience down to the hilarious Windows 95 style box. The controls are pretty simple. Tapping clears a block. Long press to mark a bomb. Tap a marking once to change to unknown. Tap it again to clear the marking.
Give yourself a little break today and enjoy some nostalgia, I did. :]
FSM | football betting predictions and live scores

The FSM app is tailer made for avid football fans.
FSM app starts with realtime news from various football organizations and historical leaderboards dating back to 1994. But it builds on that with current team information like health and fitness, statistics, analysis, and forecasts. Using various algorithms FSM will predict match outcomes between individual teams based on their fitness, season stats, and previous games.
You can also check bet values and results. You'll get tips on making the right bets from football gurus. You can even chat with other GSM users. FSM is a must download app for avid football fans.