Readers' App Reviews – August 2014
Check out apps made by fellow readers in August 2014, including a game where your cat saves the galaxy! By Ryan Poolos.
Leave a rating/review
Sign up/Sign in
With a free Kodeco account you can download source code, track your progress, bookmark, personalise your learner profile and more!
Create account
Already a member of Kodeco? Sign in
Save for later
Sign up/Sign in
With a free Kodeco account you can download source code, track your progress, bookmark, personalise your learner profile and more!
Create account
Already a member of Kodeco? Sign in
August is almost over, and that means its time to showcase some more apps from readers like you!
Each month readers submit a ton of apps for me to review and showcase. This month was no exception, with over 50 apps submitted. As always, I sat down and gave them all a try and picked a few to share with you.
This month we've got:
An app for the perfect color
A way to remember all those borrowed books
An alternative to selfies
And a game where your cat saves the galaxy!
Better hurry, these apps aren't going to download themselves!
Color Mate

Color Mate is a must have tool for all of us.
Color Mate is packed with features. You can pull colors from pictures, generate random colors on the fly, convert colors from Hex to RGB to HSB to CMYK, analyze colors for temperature and pantones, find shades and tints, and of course save your favorites.
Color Mate also supports searching for colors by name looking through multiple open source dictionaries like Moroney, Wikipedia, and even XKCD.
There isn't a more full featured color tool out there. You need this today!
Freely – Time Tracking & PDF Invoices

Freely helps you track your time quickly and easily. And at the end you can send out an invoice of your time straight from the app.
Freely lets you track your time for both Projects as a whole and individual tasks within the project. You can track time off and on for individual tasks so its easy to spread work over several days. It also offers beautiful graphs for a project or week to help you visualize your work.
And you can attach your hourly rate to each project and use it to calculate estimates or final amounts. Then simply add a logo and some client info and you'll have an invoice ready to go.
Battle Pet Galaxy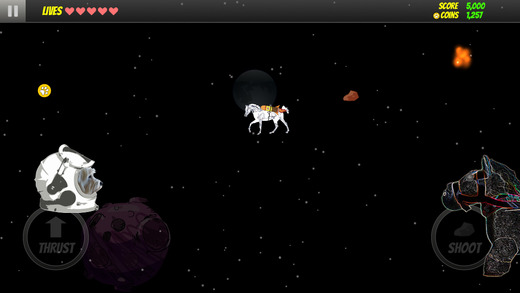 Have you ever wondered what it would be like if your pet were defending the universe? Wonder no longer!
Battle Pet Galaxy lets your pet save the galaxy from the evil space bunny and his minions. The main character is quite literally your pet. You take a photo of your pet, adorn them with space helmets or cowboy hats, then send them into space where they battle other animals out to destroy the galaxy.
With over 20 different helmets to put on your pet, they'll be ready for anything. And if they're just too cute to let go, you can always share a picture of them.
Censie

In a world of privacy gone awry, Censie offers a very useful and easy way to make our photos a little more private.
Censie does live image processing to pixelate areas of the photo you choose. You can just tap where you'd like it censored, or let facial recognition handle it for you.
Censie also wipes sensitive data like location and camera model from your photos. And since Censie does its censoring on live untaken pictures, no uncensored version of the photo is ever at risk of accidentally popping up.
Trickshot – Football Edition

Trickshot is like playing mini golf mixed with pinball. And its some addicting fun!
Just pull back and the ball goes flying, but aim carefully. You've got to get it into the hole with as few kicks as possible.
Trickshot has over 50 levels, GameCenter integration for leaderboards and achievements, and local multiplayer up to 4 players.
The Gamer's Reader

The Gamer's Reader is a great news aggregator for all things games. Its got a crisp clean design and news collected from over 30 sites. You can organize it by categories or by sites.
The Gamer's Reader has 5 different themes and customizations for fonts, text sizes, margins, line spacing, and more. You can view raw websites or let it turn your content in a cleanly designed single page article.
The Gamer's Reader also help you find all the videos in a dedicated video section. And if you're not ready to read now, you can always save to read later or offline.
Super Game About Squares

This puzzle game is easy to play, but hard to master. Your goal is to get colored squares over their matched circle.
Squares have a color and a direction. Tapping them moves them their current direction. But you'll have to be wise about your order of moves to make sure you get each square where it needs to go. And at higher levels squares can change direction when passing over certain triangles.
All in all its a very addicting and fun puzzle game. Its relaxing to play on your own time, but the puzzles definitely get challenging.
PopSpell Ninja – Spelling for Kids

Kids always learn better with some fun, and PopSpell Ninja delivers.
With over 390 words and illustrations there is a lot to learn. And it comes in English, French, Spanish, and Italian!
Gameplay is fun and simple. Letters appear over the illustration in bubbles and a quick ninja swipe puts it in the blanks for the word. All you need to do is pop them in order to spell the word illustrated.
You can play random mode for any word or select from a number of categories like animals or food to help kids learn more related words.
Answer Me That!

Answer Me That is a social experiment disguised as a game.
Users ask simple questions of the community. Questions are limited to two options, black or white, yes or now, right or wrong. You can add context, hints. But all in all, its the community's decision to decide.
In the end everyone is answering each other's questions, and you begin to survey the users as a whole. Its insanely entertaining to read responses and reasons. And its also a very powerful tool to have the community at large at your fingertips to ask any question you choose.
LendPal

Do you lend stuff out to your friends all the time but forget who or when? LendPal will help.
LendPal lets you keep track of what or how much you've loaned to who. Along with when you loaned it and reminders for payback.
But LendPal doesn't stop with you bugging your friends. It also tracks what you've borrowed from friends. And of course reminds you to pay them back or return the item.
In a digital world, LendPal is a great way to keep track of your physical stuff as you share it with your friends.
Honorable Mentions
Every month I get more submissions than I can handle. I give every app a shot, but I can't write about them all. These are still great apps made by readers like you. Its no a popularity contest or even a favorite picking contest. I just try to get a glimpse of what the community is working on through your submissions. Take a moment and checkout these other great apps I didn't have time to showcase properly.
Robot Munch
Sara's Adventure
AnimeHub
Promishare
Spekz
Weenie Rush
Love Your Country
DIY Subtitle Free – Add subtitle, caption, emoji, watermark to your video
Amazing Bobby
Shards – the Brick Breaker
5Squared
Speed Dial
QuickRead – Speed Reader for iOS
Hungry Bird Free
Guess The Number
Hunger Race
Quit: Stop smoking now!
Link Together
Blend Music Player
Tuku Fly Home
Retro Formula
TicTac5
RGBY Quiz
Astra
Unscramble This
Birthday Story
Fan Playbook
Space Swiper
Scoreboards
Showboard
Don't Miss A Block
Red Dot Blue Dot
Breakdown Buddy
Easpense Tracker
QQISSO?(What's this)
3pCompass
Halfglass Weather
Where To Go From Here?
Each month, I really enjoy seeing what our community of readers comes up with. The apps you build are the reason we keep writing tutorials. Make sure you tell me about your next one, submit here!
If you've never made an app, this is the month! Check out our free tutorials to become an iOS star. What are you waiting for – I want to see your app next month!
All videos. All books.
One low price.
A Kodeco subscription is the best way to learn and master mobile development — plans start at just $19.99/month! Learn iOS, Swift, Android, Kotlin, Flutter and Dart development and unlock our massive catalog of 50+ books and 4,000+ videos.
Learn more