Readers' App Reviews – September 2014
Check out apps by fellow readers in September 2014: a game to teach you about art, a 3D editor for kids, and much more! By Ryan Poolos.
Leave a rating/review
Sign up/Sign in
With a free Kodeco account you can download source code, track your progress, bookmark, personalise your learner profile and more!
Create account
Already a member of Kodeco? Sign in
Save for later
Sign up/Sign in
With a free Kodeco account you can download source code, track your progress, bookmark, personalise your learner profile and more!
Create account
Already a member of Kodeco? Sign in
Readers' App Reviews – September 2014
15 mins
September is almost over and the world is home to not one, but two new iPhones!
The new screen sizes of the iPhone 6 and iPhone 6 Plus bring new challenges and opportunities to developers.
With more screen than ever before, our apps have a chance to offer even more unique interfaces taking advantage of the multitouch we all take for granted.
With our latest OS and devices, our favorite indies have been busy. ;] I've got an inbox full of apps and I'm excited to share a few with you for September.
This month we've got:
A game the teaches you about famous art
An app that makes markdown a breeze
A 3D editor so easy to use its for kids
And of course, much more!
Keep reading to learn more about your fellow readers' latest creations.
Blox 3d Junior!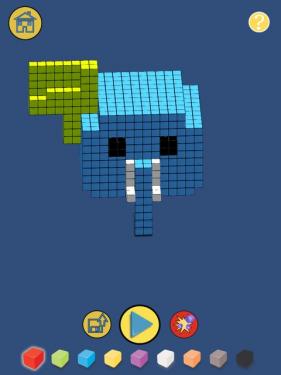 Blox 3D Junior is a very cool 3D shape editor so easy its designed for kids.
Blox 3D focuses on voxels. You can create them in any direction in 3D space using a variety of colors. The creations are incredible. You can zoom and spin your creation to see it from every angle. This is an app that really showcases how awesome the iPad is.
You can save up to 38 models to show off later. The app also comes preloaded with some fun models and a mode than builds them automatically for very young kids to watch and learn from.
GREG

GREG is a puzzle game that uses your love for matching to build your speed for addition.
GREG is a simple game, a grid of numbers called tokens sits below a target number and timer. Select tokens that add up to the target number before time runs out, simple.
With some special tricks you can gain extra points, like selecting tokens in a row or column. And some tokens will be highlighted with powerups that only last for a small time.
A full bank of available achievements will keep you fighting for that final match.
Huerons

There can only be one! Hueron that is.
Huerons is an addictive puzzle game focused on combining Huerons down to just one. A tap on an empty spot between two Huerons will trigger a merge. Huerons come in different colors and sometimes must be converted before the puzzle is complete.
Order is everything. Combine too soon and you could be left with Huerons unable to be combined.
With over 100 puzzles, Huerons will keep you busy for awhile. And you can always go back and take a shot at solving a puzzle quicker than before.
Spend Stack

Budgeting can be a hard thing for some. Spend Stack is here to help.
Spend Stack lets you organize stacks of items be that groceries, furniture, or in my case electronics I've got my eye on. ;]
Each stack lets you create items with prices, prefilled tax rates based on location, and a category. You can drag and drop to order them based on your priority. And each stack will keep track of a total for all items.
I normally do this in a sticky on my Dashboard, but having a dedicated app for it is already proving nicer. The app also has themes per stack, so your new toys Stack can have a nice dark theme while gifts for your family can have a nice colorful theme.
Mixpix

Pictures are boring. MixPix are fun!
MixPix offers hundreds of add ons for your photos to spice them up. Its got speech bubbles, beards, glasses, frames, borders, hair, hats, and more. And before you get to work on your fun photo, make sure its a good one. MixPix is also packing image filters for exposure and color correction along with blurs and overlays.
When you're finished perfecting your master piece, Twitter and Facebook export is built right in. And of course its got export to PhotoStream, iMessage, Instagram, etc.
Summbot

Summbot is a unique app that aims to help us consume our favorite articles quickly and efficiently.
Summbot takes both free text and a direct URL. Summbot analyzes your content for the most important parts. Entire articles are converted to a simple bullet list of the key take aways.
Summbot's UI strips away the chrome and leaves just your content for quick efficient reading. My testing with Summbot showed it really works. I was able to condense 1000 word articles into just a handful of bullet points. Reading the bullet points first and the article second, I was able to see that I had gotten the gist of the article already. The algorithms are really quite amazing.
Art Scrambles

Puzzles are almost universally fun. I love a good puzzle large and small.
Art Scrambles brings this fun to your pocket. Art Scrambles has over 6 different types of puzzles generated from over 600 different works of classic art. It includes art from artists such as Leonardo da Vinci, Vincent Van Gogh, and Hans Holbein the Younger.
Art Scrambles saves your progress per painting so you can start and continue anytime with multiple puzzles in progress.